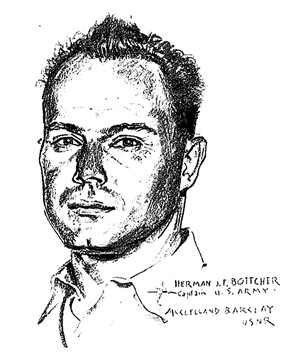 Captain Hermann Bottcher was one of the most remarkable U.S. soldiers to fight in WW II.
Born in Germany in 1909 and orphaned at an early age, he emigrated to Australia and then to the U.S. where he lived with his aunt in San Francisco.
Prior to his U.S. service he fought with the Republican Army in the Spanish Civil War where he was promoted to the rank of major, was wounded several times and highly decorated for his combat exploits.
He volunteered for U.S. service after Pearl Harbor. At the time he was pursing a degree in architecture. He had lost his bid for U.S. citizenship as a result of his service with the Abraham Lincoln Brigade in Spain and so entered the U.S. Army as a German citizen.
Assigned to the 32nd Infantry Division, a National Guard unit, after initial training, Bottcher was sent to Australia. He was with one of the first units committed to offensive action against the Japanese who at the time were attacking from the north coast of New Guinea, across the Owen Stanley Mountains in an effort to take Port Morseby. That trek over the mountains on almost non-existent trails and under appalling conditions was the result of a poor tactical assessment by the inexperienced headquarters of General MacArthur.
Later Bottcher served throughout the brutal campaign around Buna on the north coast of New Guinea. There his gallantry was awarded with two Distinguished Service Crosses, the second highest decoration in the army.
His first was awarded when he volunteered to attempt a break through to the coast, thus splitting the Japanese forces and denying them the ability to reinforce at critical points of attack. With a small group of volunteers then Staff Sergeant Bottcher traveled up a small stream bed and broke through the Japanese lines and established a blocking position on the beach which came to be known as Bottcher's Corner.
From there he and his group fought off counterattacks from two directions. They maintained their position for almost two weeks. Bottcher, though wounded, refused evacuation. This spectacular achievement, in the words of Lt. Gen. Robert Eichelberger, who was commanding U.S. forces at the time, "electrified" all those who had been slogging for weeks in the discouraging fight against the well-defended Japanese.
Eichelberger promoted SSG Bottcher to captain and later worked to obtain his U.S. citizenship.
Bottcher received a second DSC for actions taken with complete disregard for his own safety when withdrawing his unit from a position in which it was pinned down and taking casualties.
Captain Bottcher was evacuated to Australia for medical treatment. He was later assigned as commander of A Company 126th Infantry and subsequently as Commander of the 32nd Recon Troop in which position he served until he was killed during the last days of the Leyte campaign.
He participated in the action around Aitape in New Guinea, conducting long-range patrols in front of the defensive position on the Drinioumor River, which was established to block a Japanese force of some 20,000 from reaching critical air fields in the area and threatening Hollandia.
On Leyte his unit served with distinction for long periods in enemy territory gathering intelligence and conducting attacks on Japanese positions in conjunction with 32nd Division operations.
Captain Bottcher was renowned in the Pacific Theater. He was universally respected by those he fought with and was known by reputation to many others. Eleanor Roosevelt even took the time to look him up during her wartime tour in Australia.
To this day, 2009, there are those living who remember with great respect and fondness their service with "The Captain."
Even though the 32nd Division was engaged in combat operations for more time than any other division in the army and fought in some of the most difficult campaigns of the war, popular history has not been kind in its recognition of this service.
This website, while dedicated to the recognition of Hermann Bottcher's life in the U.S. Army it will also provide insight to the fighting in the Pacific, the nature of the combat and the daily administration of combat forces.
In the final analysis it is the hope of those of us who worked on it that the website will honor the service and sacrifice not only of Hermann Bottcher but of all those who served.